It is important for us to learn to linger.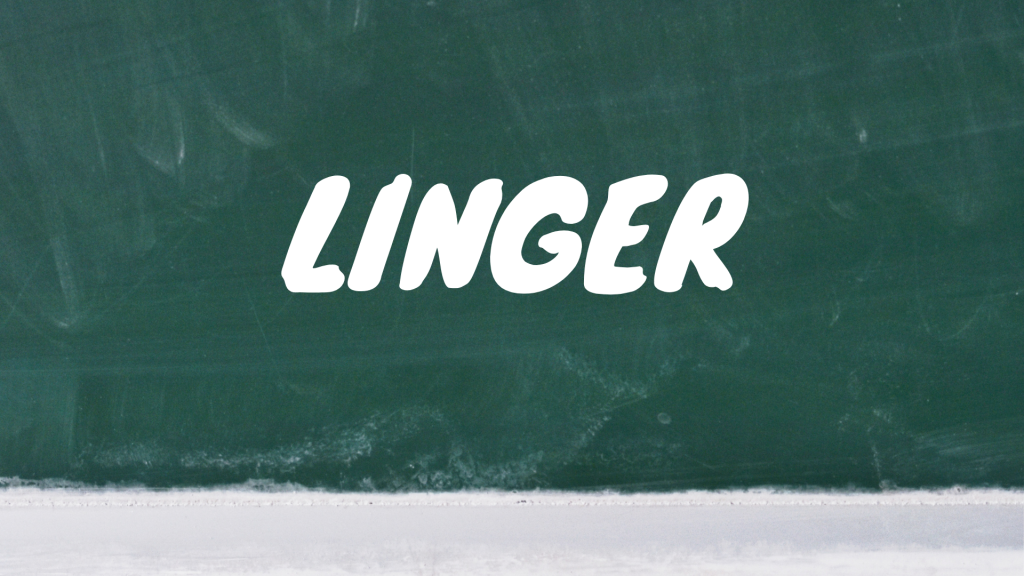 DAY 7
The psalmist lets us know, if we learn to linger in the truth of God's Word, it will teach us and guide us to salvation. And, if we learn to linger in the presence of God, He will strengthen our hearts when we need strength and give courage when we need it to face the day.
If we learn to linger for the Lord, He will hear our cry.
7 Therefore I will look unto the Lord; I will wait for the God of my salvation: my God will hear me.
-- Micah 7:7 (KJV)
The Apostle Paul tells us in Galatians, if we learn to linger in the Spirit, we will find our hope of righteousness through faith in Him.
5 For we through the Spirit wait for the hope of righteousness by faith.
-- Galatians 5:5 (KJV)
One of the best things to linger for is God's presence and power like they did after the ascension of Jesus in Acts 1. The disciples lingered in Jerusalem for the promise of the Holy Spirit. Before Jesus ascended to Heaven He told His disciples to stay in Jerusalem and wait for the promise of the Father. They were told it was not for them to know the times or the seasons but to wait and receive the power of the Holy Spirit to be a witness to spread the good news.
4 And, being assembled together with them, commanded them that they should not depart from Jerusalem, but wait for the promise of the Father, which, saith he, ye have heard of me.
5 For John truly baptized with water; but ye shall be baptized with the Holy Ghost not many days hence.
6 When they therefore were come together, they asked of him, saying, Lord, wilt thou at this time restore again the kingdom to Israel?
7 And he said unto them, It is not for you to know the times or the seasons, which the Father hath put in his own power.
8 But ye shall receive power, after that the Holy Ghost is come upon you: and ye shall be witnesses unto me both in Jerusalem, and in all Judaea, and in Samaria, and unto the uttermost part of the earth.
-- Acts 1:4-8
It was this lingering for His presence in the upper room that lead to the coming of the Holy Spirit in Acts 2. Their obedience to lingering in His presence helped lead to the promised power of the Holy Spirit.
Let's learn to linger in His presence.
DAY 7 SCRIPTURES
1 And when the day of Pentecost was fully come, they were all with one accord in one place.
2 And suddenly there came a sound from heaven as of a rushing mighty wind, and it filled all the house where they were sitting.
3 And there appeared unto them cloven tongues like as of fire, and it sat upon each of them.
4 And they were all filled with the Holy Ghost, and began to speak with other tongues, as the Spirit gave them utterance.
-- Acts 2:1-4 (KJV)