Well, I never expected the events that happened in 2010. I had a plan in mind and then Plan B kicked into place… we had someone walk up to us and ask to buy our house, sold our house, lived out of suitcases for a month, found and bought a new home, moved into and made the new home livable in time for our second child's birth. Talk about having things laid out in your mind and then God changing the plans you had. And during all this I saw a book by Pete Wilson on Plan B: What to do when God doesn't show up the way you thought he would? by Thomas Nelson Publishing. I thought it'd be a great book to read based on the circumstances.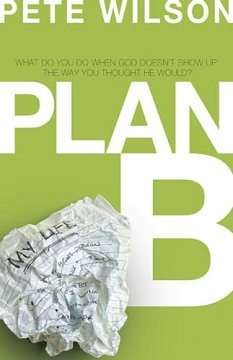 I feel this book is perfect for the twenty or thirty something that is going through the phase of life where nothing seems to be going as planned and nothing seems to be making any sense. A quote I found reassuring from the book was, "Your dreams may not be happening, and things aren't turning out the way you expected, but that doesn't mean your life is spinning out of control. It just means you're not in control." It seem liked during the point in my life that this book was placed into my hands that I thought I had things under control. Even though I have been a Christian all my life and have read and heard the scripture that says "Trust in the Lord with all your heart, and don't depend on your own understanding," it seemed like I thought I had it all under control and my plans were solid.
Well, God changed his plans and had a "Plan B" in store, and Pete Wilson's book helped play an important role in that. I would highly suggest this book to anyone, but specifically the twenty or thirty something. I plan on reading this book throughout the coming years and sharing it with others, too.