It is important for us to learn to listen for the voice of God in our life.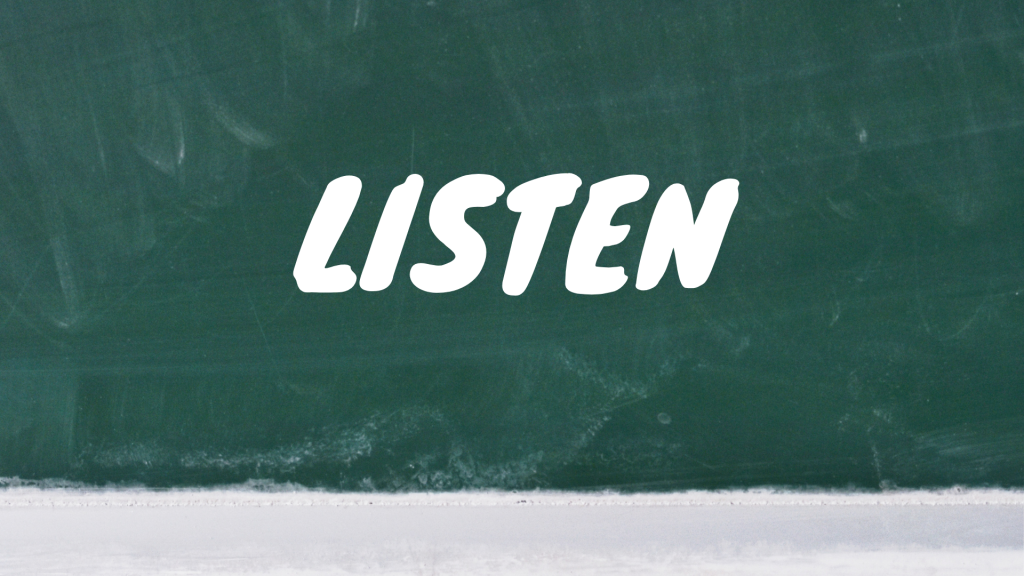 DAY 2
Take a study through the Bible and you will see the Lord speaking to people. He speaks in different ways to different people.
In Genesis 22, Abraham proved to God that he was willing to obey him even to the point of taking his son's life. Before he could bring the knife to Isaac, God called his name twice. "Abraham, Abraham" (Genesis 22:11). He passes the test, proving he would always trust God.
In Exodus 3, God calls out to Moses from the burning bush on the backside of the desert at the mountain of God. God tells him that he will go to Pharaoh to bring His people out of Egypt.
In 1 Samuel 3, the young Samuel was being called by God in the evening hours of bedtime. He became confused and went to Eli, but after a few failed attempts he heeded to Eli's advice and finally responded "Lord thy servant heareth." Samuel obeyed and became a great prophet that went on to anoint the first two kings of Israel.
In 1 Kings 19, we read about Elijah fleeing Jezebel's death threat. He finds himself at the mountain of God at Horeb, the same place Moses encountered the burning bush. While there he went into a cave and God spoke with him, not through a strong wind, not through an earthquake, not through a fire, but through a still small voice.
God speaks to us all in different ways. It could be in a clear audible voice like Abraham or a miraculous, burning bush like Moses. It could awaken you out of your sleep like Samuel or be a still small voice in your noisy wilderness like Elijah.
One thing is for sure, He will speak to you if you learn to listen.
DAY 2 SCRIPTURES
1 And it came to pass after these things, that God did tempt Abraham, and said unto him, Abraham: and he said, Behold, here I am.
2 And he said, Take now thy son, thine only son Isaac, whom thou lovest, and get thee into the land of Moriah; and offer him there for a burnt offering upon one of the mountains which I will tell thee of.
3 And Abraham rose up early in the morning, and saddled his ass, and took two of his young men with him, and Isaac his son, and clave the wood for the burnt offering, and rose up, and went unto the place of which God had told him.
4 Then on the third day Abraham lifted up his eyes, and saw the place afar off.
5 And Abraham said unto his young men, Abide ye here with the ass; and I and the lad will go yonder and worship, and come again to you.
6 And Abraham took the wood of the burnt offering, and laid it upon Isaac his son; and he took the fire in his hand, and a knife; and they went both of them together.
7 And Isaac spake unto Abraham his father, and said, My father: and he said, Here am I, my son. And he said, Behold the fire and the wood: but where is the lamb for a burnt offering?
8 And Abraham said, My son, God will provide himself a lamb for a burnt offering: so they went both of them together.
9 And they came to the place which God had told him of; and Abraham built an altar there, and laid the wood in order, and bound Isaac his son, and laid him on the altar upon the wood.
10 And Abraham stretched forth his hand, and took the knife to slay his son.
11 And the angel of the Lord called unto him out of heaven, and said, Abraham, Abraham: and he said, Here am I.
12 And he said, Lay not thine hand upon the lad, neither do thou any thing unto him: for now I know that thou fearest God, seeing thou hast not withheld thy son, thine only son from me.
13 And Abraham lifted up his eyes, and looked, and behold behind him a ram caught in a thicket by his horns: and Abraham went and took the ram, and offered him up for a burnt offering in the stead of his son.
14 And Abraham called the name of that place Jehovahjireh: as it is said to this day, In the mount of the Lord it shall be seen.
15 And the angel of the Lord called unto Abraham out of heaven the second time,
16 And said, By myself have I sworn, saith the Lord, for because thou hast done this thing, and hast not withheld thy son, thine only son:
17 That in blessing I will bless thee, and in multiplying I will multiply thy seed as the stars of the heaven, and as the sand which is upon the sea shore; and thy seed shall possess the gate of his enemies;
18 And in thy seed shall all the nations of the earth be blessed; because thou hast obeyed my voice.
-- Genesis 22:1-18 (KJV)
1 Now Moses kept the flock of Jethro his father in law, the priest of Midian: and he led the flock to the backside of the desert, and came to the mountain of God, even to Horeb.
2 And the angel of the Lord appeared unto him in a flame of fire out of the midst of a bush: and he looked, and, behold, the bush burned with fire, and the bush was not consumed.
3 And Moses said, I will now turn aside, and see this great sight, why the bush is not burnt.
4 And when the Lord saw that he turned aside to see, God called unto him out of the midst of the bush, and said, Moses, Moses. And he said, Here am I.
5 And he said, Draw not nigh hither: put off thy shoes from off thy feet, for the place whereon thou standest is holy ground.
6 Moreover he said, I am the God of thy father, the God of Abraham, the God of Isaac, and the God of Jacob. And Moses hid his face; for he was afraid to look upon God.
7 And the Lord said, I have surely seen the affliction of my people which are in Egypt, and have heard their cry by reason of their taskmasters; for I know their sorrows;
8 And I am come down to deliver them out of the hand of the Egyptians, and to bring them up out of that land unto a good land and a large, unto a land flowing with milk and honey; unto the place of the Canaanites, and the Hittites, and the Amorites, and the Perizzites, and the Hivites, and the Jebusites.
9 Now therefore, behold, the cry of the children of Israel is come unto me: and I have also seen the oppression wherewith the Egyptians oppress them.
10 Come now therefore, and I will send thee unto Pharaoh, that thou mayest bring forth my people the children of Israel out of Egypt.
-- Exodus 3:1-10 (KJV)
1 And the child Samuel ministered unto the Lord before Eli. And the word of the Lord was precious in those days; there was no open vision.
2 And it came to pass at that time, when Eli was laid down in his place, and his eyes began to wax dim, that he could not see;
3 And ere the lamp of God went out in the temple of the Lord, where the ark of God was, and Samuel was laid down to sleep;
4 That the Lord called Samuel: and he answered, Here am I.
5 And he ran unto Eli, and said, Here am I; for thou calledst me. And he said, I called not; lie down again. And he went and lay down.
6 And the Lord called yet again, Samuel. And Samuel arose and went to Eli, and said, Here am I; for thou didst call me. And he answered, I called not, my son; lie down again.
7 Now Samuel did not yet know the Lord, neither was the word of the Lord yet revealed unto him.
8 And the Lord called Samuel again the third time. And he arose and went to Eli, and said, Here am I; for thou didst call me. And Eli perceived that the Lord had called the child.
9 Therefore Eli said unto Samuel, Go, lie down: and it shall be, if he call thee, that thou shalt say, Speak, Lord; for thy servant heareth. So Samuel went and lay down in his place.
10 And the Lord came, and stood, and called as at other times, Samuel, Samuel. Then Samuel answered, Speak; for thy servant heareth.
-- 1 Samuel 3:1-10 (KJV)
1 And Ahab told Jezebel all that Elijah had done, and withal how he had slain all the prophets with the sword.
2 Then Jezebel sent a messenger unto Elijah, saying, So let the gods do to me, and more also, if I make not thy life as the life of one of them by to morrow about this time.
3 And when he saw that, he arose, and went for his life, and came to Beersheba, which belongeth to Judah, and left his servant there.
4 But he himself went a day's journey into the wilderness, and came and sat down under a juniper tree: and he requested for himself that he might die; and said, It is enough; now, O Lord, take away my life; for I am not better than my fathers.
5 And as he lay and slept under a juniper tree, behold, then an angel touched him, and said unto him, Arise and eat.
6 And he looked, and, behold, there was a cake baken on the coals, and a cruse of water at his head. And he did eat and drink, and laid him down again.
7 And the angel of the Lord came again the second time, and touched him, and said, Arise and eat; because the journey is too great for thee.
8 And he arose, and did eat and drink, and went in the strength of that meat forty days and forty nights unto Horeb the mount of God.
9 And he came thither unto a cave, and lodged there; and, behold, the word of the Lord came to him, and he said unto him, What doest thou here, Elijah?
10 And he said, I have been very jealous for the Lord God of hosts: for the children of Israel have forsaken thy covenant, thrown down thine altars, and slain thy prophets with the sword; and I, even I only, am left; and they seek my life, to take it away.
11 And he said, Go forth, and stand upon the mount before the Lord. And, behold, the Lord passed by, and a great and strong wind rent the mountains, and brake in pieces the rocks before the Lord; but the Lord was not in the wind: and after the wind an earthquake; but the Lord was not in the earthquake:
12 And after the earthquake a fire; but the Lord was not in the fire: and after the fire a still small voice.
13 And it was so, when Elijah heard it, that he wrapped his face in his mantle, and went out, and stood in the entering in of the cave. And, behold, there came a voice unto him, and said, What doest thou here, Elijah?
14 And he said, I have been very jealous for the Lord God of hosts: because the children of Israel have forsaken thy covenant, thrown down thine altars, and slain thy prophets with the sword; and I, even I only, am left; and they seek my life, to take it away.
15 And the Lord said unto him, Go, return on thy way to the wilderness of Damascus: and when thou comest, anoint Hazael to be king over Syria:
-- 1 Kings 19:1-15 (KJV)